North Wootton Academy is committed to developing an understanding of E-safety for both children and parents and carers. This covers both Internet based technologies and electronic devices such as mobile phones and wireless technology. We are keen to make children aware of both the benefits and risks of new technology.
Online safety should be a focus in all areas of the curriculum and staff should reinforce online safety messages across the curriculum. The online safety curriculum should be broad, relevant and provide progression, with opportunities for creative activities and will be provided in the following ways:
A planned online safety curriculum should be provided as part of Computing / PHSE / other lessons and should be regularly revisited
Key online safety messages should be reinforced as part of a planned programme of assemblies and tutorial / pastoral activities

Students / pupils should be taught in all lessons to be critically aware of the materials / content they access on-line and be guided to validate the accuracy of information.

Students / pupils should be taught to acknowledge the source of information used and to respect copyright when using material accessed on the internet

Students / pupils should be supported in building resilience to radicalisation by providing a safe environment for debating controversial issues and helping them to understand how they can influence and participate in decision-making.

Students / pupils should be helped to understand the need for the student / pupil Acceptable Use Agreement and encouraged to adopt safe and responsible use both within and outside academy.
Staff should act as good role models in their use of digital technologies, the internet and mobile devices

In lessons where internet use is pre-planned, it is best practice that students / pupils should be guided to sites checked as suitable for their use and that processes are in place for dealing with any unsuitable material that is found in internet searches.

Where students / pupils are allowed to freely search the internet, staff should be vigilant in monitoring the content of the websites the young people visit.
Teaching Pupils to be Safe Online
Pupil Voice
Just as with parents, the school staff struggle at times to keep pace with the current platforms, games and habits of our students online. Therefore, one of the school's pupil committees is focused on this issue with Digital Leaders chosen to support the school with their knowledge and expertise. This is comprised of children from Years 3-6 who have an interest in this area.
Online Bullying
Whilst the school reminds all pupils of the age-limits that are linked to many social-media platforms and online games, pupils are increasingly using these for out-of-school socialisation. On occasion, as in the real world, our pupils can make errors in the words that they chose and the actions that they take. As with all mistakes, the school feels that these should be seen as opportunities for the school to further educate pupils around safe online behaviours amongst them and therefore is keen to have these shared with the class teachers for us to deal with as if it had happened within the school building.
If in doubt...
Whilst the school has a wish to be thorough in its approach to this area, there is an also a danger that too much information can dilute the key messages and therefore all pupils are taught one key message:
'If in doubt, minimise and shout out!
Classification Of Online Risk - The 4 Cs
Protecting Children from Harmful Content Online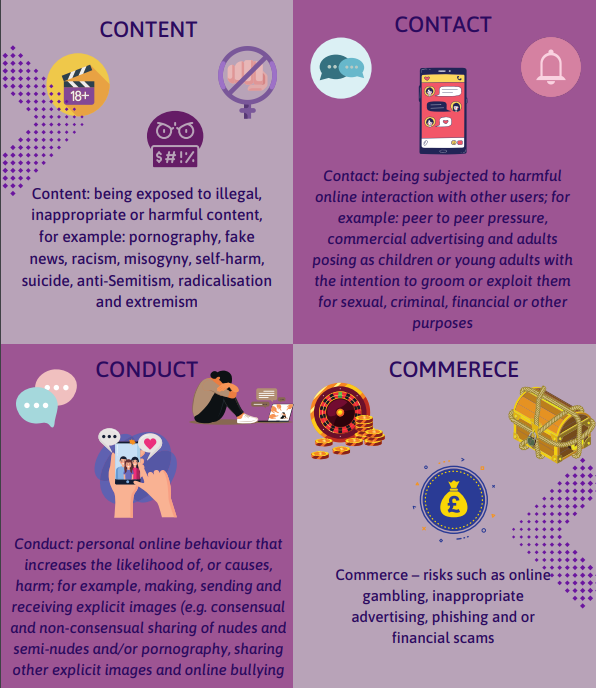 The CO:RE 4 Cs classification recognises that online risks arise when a child:
Engages with and/or is exposed to potentially harmful CONTENT;
Experiences and/or is targeted by potentially harmful CONTACT;
Witnesses, participates in and/or is a victim of potentially harmful CONDUCT;
Has access and is exposed to potentially harmful COMMERCE.
Useful links for parents - these sites have up-to-date information on how to stay safe online:
CEOP (The Child Exploitation and Online Protection Centre) is often it is referred to as an online 999. By clicking on the button, young people and parents can get advice on a range of issues such as viruses, hacking and dealing with bullying online.