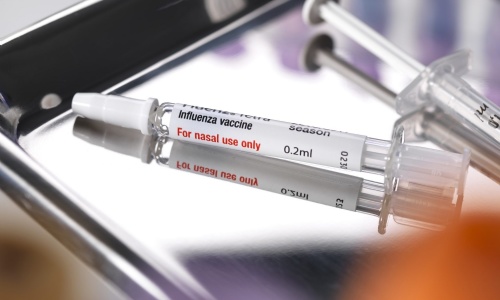 Influenza immunisation for your child in school years Reception - 6
This year, all pupils from Reception to year 11 are being offered a flu vaccine at their school given as a simple squirt up the nose. It is painless, quick, and side effects are uncommon and generally mild. All pupils in are eligible for the influenza immunisation. This is NOT the Covid Vaccination.
By having the flu vaccination, children are protected against the flu, which can be serious. Importantly, they are also less likely to pass the virus on to friends and family, especially those who may be at high risk from flu, such as babies, elderly people or friends and relatives with a serious health condition.
It is predicted that we will see an increase in flu this year, due to previous lockdown measures and lack of natural protection. Vaccination is strongly advised to protect your child, your wider family and your community.
If you would prefer for your child to receive the flu injection, which does not contain porcine gelatine, please let your immunisation team know as soon as possible.
The nasal spray offers the best protection from flu for children and young people, but there is an alternative flu vaccine available as an injection.
The consent form is also available on our website: www.schoolvaccination.uk
Please find attached some frequently asked questions (FAQs) about this vaccine. In addition, information about this vaccine can be obtained using the following link: https://www.nhs.uk/conditions/vaccinations/child-flu-vaccine-questions-and-answers/
Please complete and sign the consent form* which has been sent home (one for each child) and return it to the school within 1 week. *The person who has parental responsibility must sign the consent form.
IF YOU WISH TO REFUSE THE VACCINE, PLEASE COMPLETE THE FORM AND TELL US WHY. IT IS IMPORTANT THAT YOU RETURN THE FORM EVEN IF YOU DO NOT WANT YOUR CHILD TO HAVE THE VACCINE.